Oxygen the Series – ออกซิเจน เดอะซีรีส์ – ดั่งลมหายใจ (2020)
An upcoming series based on the novel series of Chesshire, with an illustration of Suki, comes Oxygen the Series. In 2020 released, this upcoming Thai BL series is more about two young boys from different worlds. They are living on their own, Gui may found a life-changing, but he is on the track to be happy. Solo, another main role who is born with a silver spoon, and has everything but with a smile.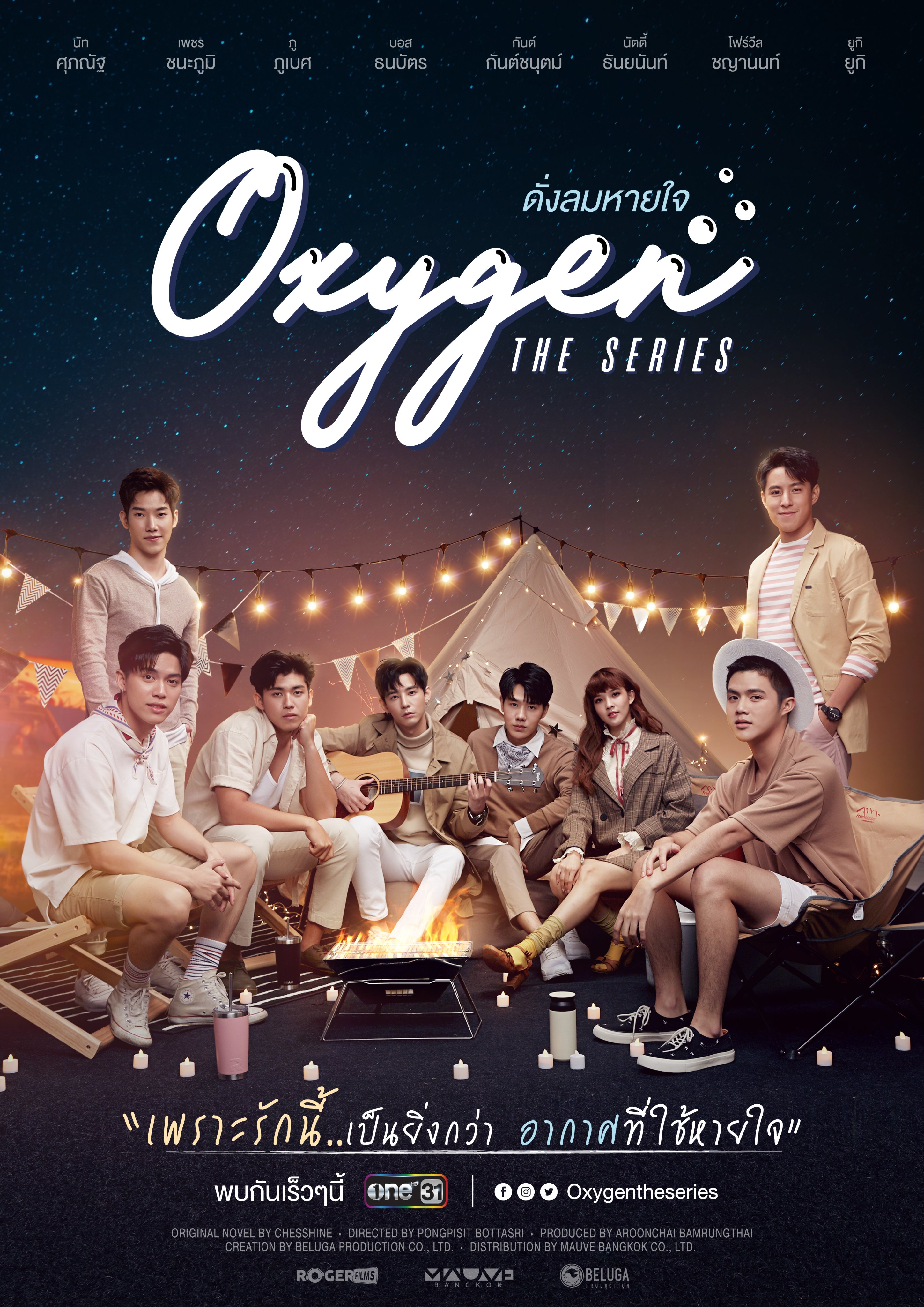 ---
Orphaned at a very young age, Gui, a fourth-year engineering student, has had to work hard and earn for himself for as long as he can remember. Still, through the test of time, he still has a soft demeanor and a smile on his face. Solo, a freshman in the Faculty of Music, can get anything he wants with a flick of his wrist. Money, fame, good looks, the boy has everything, except his smile. When Solo's mother passed away, she took with her his smile. Nothing could fill this missing hole in him… that is — until one day when he sees a smiling boy working at a cafe. One night the two worlds collide in a small coffee shop. For a cup of hot milk and a warm smile, Solo finds himself back in the cafe every night. For a soft boy who reminds him of a husky, Gui finds himself waiting for a late-night visitor with a cup of hot milk, night after night. Night after night, the two boys continue to meet. At the same spot, at the same time, until they soon come to realize that they have become each other's breath. A necessity. Just like Oxygen.

– Adapted from the novel "Oxygen" written by Chesshire and illustration by Suki
---
MAIN CHARACTERS
Nut Supanut as Solo – A freshman of Fine Arts, majoring in Music, a Prom King and soon to be College's Prom King. He may appear stubborn and quiet but guitar is the love of his life.
Petch Chanapoom as Gui – A kind warm cheerful and comforting senior of Mechanical Engineering, a former Prom King and an orphan who makes a living as a barista.

Boss Thanabat as Kao Ashira – A talkative charming careless freshman of Fine Arts, majoring in Music. He's the college's lead singer and Solo's best friend.
Phu Phubeth as Phuri – A senior of International Business Management, an heir to a business tycoon whose introvert keeps others away.
Thanyanan Pipatchaisiri as Khim – A sophomore of Humanities, majoring in Korean. A part-time barista "Fujoshi" whose imagination is unrivaled.

Kan Kunchanuj as Dr. Petch – A quiet 29 years old pediatrician. He is lucky in-game but not quite in love. His sincerity can easily attract all to fall.
Yuuki as Dr. Perth – A specialist doctor, a bro of Dr. Petch since high school. He knows what Dr. Petch wants as well as those around him.
Fourwheels as Khem – A high school student and Khim's brother. Having lost both parents since childhood, his sister has spoiled him so much that he becomes hotheaded and addicted to games.
---
OFFICIAL TEASER
The official teaser of Oxygen the Series with English Subtitle:
In this teaser, my reaction and I feel this will be a big hit series for this year 2020. Because of the perfect casting as we see in the teaser it shows sincerity, romance, dramatic, and intriguing that I want to see in the story. And I really want to this series, the chemistry and also the storyline that you're straight and you fall in love with another man that is so very hard.
And there is also a female villain that will make us angry to the scenes that are more flavors for the flow of the story.
In overall, the teaser clip is very simple but we all know Thailand is the most prominent BL makers.
---
The Oxygen the Series will be directed by the famous director Jane Botta that is also directed the top-rated series SOTUS S and OUR SKYY. Director Botta impresses many viewers to his ability that is more tight-scenes and free-flowing story.
In their Facebook Live last May 13 featuring with the whole casts of the series, they were revealed that May 2020 was released but they have to postpone it because of the COVID-19 crisis that happened this second quarter of 2020. Another update for the fans it will be too-long of postponement of the airing, they have possibly aired the series by July 2020 but they have no official confirmation about this.
UPDATED: July 12, 2020
Oxygen the Series has finally released the Official Trailer and three Official Posters for the 3 main couple characters of the series.
OFFICIAL TRAILER
OFFICIAL POSTERS
The series will be air on September 12, 2020, every Saturday 10:25PM on One31. And we are looking forward also to be available on LINE TV with English Subtitle for International Fans.
I will post more updates and news regarding this series.
---